Glansholms Bokhandel & Antikvariat
Söker du efter "Alcatraz 4 books Omnibus" av Brandon Sanderson? Du kan sluta leta. Våra experter i antikvariat hjälper dig eftersöka boken - utan extra kostnad - och den levereras direkt hem i brevlådan.

Information från förlaget
Engelsk utgåva
Alcatraz 4 books Omnibus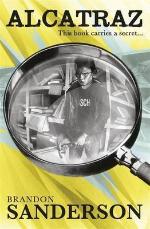 On his thirteenth birthday, Alcatraz - a foster child - gets a bag of sand in the mail which purports to be his 'inheritance' sent from his father and mother. The Librarians, of course, immediately steal the bag of sand from him. This sparks a chain of events which leads Alcatraz to realize that his family is part of a group of freedom fighters who resist the Evil Librarians - the secret cult who actually rule the world. Alcatraz's grandfather shows up and tows him off to infiltrate the downtown library to steal back the mystical bag of sand. The ensuing story involves talking dinosaurs, sentient romance novels, and a dungeon-like labyrinth hiding beneath the innocent-looking downtown library.
Utgåvor
Häftad
Förlag: Orion Publishing Group
An omnibus of four books by the best selling author of the MISTBORN and WHEEL OF TIME series
Utgivningsdatum: 20120920
9780575131347
Bok: 214553

Anmäl textfel