Glansholms Bokhandel & Antikvariat

Piracy is liberation 002, Infotrip - Häftad
Finns i lager, 46 kr
Information från förlaget
Engelsk utgåva
Piracy is liberation 002, Infotrip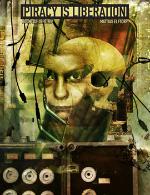 Set a year after Information Wants to be Free, we follow Pirate and Information as they rejoin the fight for freedom in the City that's become synonymous with the world to its inhabitants. Back in the free and illegal flow of information after a year without it, Pirate and Information are almost overwhelmed, but that's ok. It's part of the high. Technograph visits the old people in the desert outside the city, and a whale passes through the City's airspace.
This all leads up to an event of great importance for the resistance. It is the beginning of something new. A seed for the future.
Utgåvor
Häftad
Förlag: C´est Bon Kultur
Lagerstatus: Finns i lager
Piracy is liberation is set in the far future. After the apocalypse came true (not necesserily the biblical one, but the one that it was an interpretation of), the world and humankind has restarted. They are still taking their first steps, but unsure of what direction to go. The old world is dead, long live the new flesh!
Utgivningsdatum: 20070701
9789197652834
Bok: 174674

Anmäl textfel