Glansholms Bokhandel & Antikvariat
Söker du efter "Inside Divergent: The Initiate's World" av Veronica Roth? Du kan sluta leta. Våra experter i antikvariat hjälper dig eftersöka boken - utan extra kostnad - och den levereras direkt hem i brevlådan.

Information från förlaget
Engelsk utgåva
Inside Divergent: The Initiate's World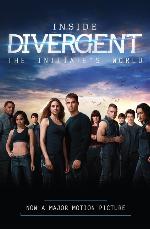 Explore the world inside Divergent. Filled with exclusive photos, Inside Divergent explores the meaning of each faction in Veronica Roth's dystopian Chicago: Abnegation, Amity, Candor, Erudite, and Dauntless. Meet the initiates through their candid photos and profiles: Tris, Caleb, Molly, Christina, Peter, Al, and the others. The faction leaders are here, too: Four, Eric, Max, Jeanine, Natalie, Andrew, and Marcus. Follow the journey from the aptitude test to the Choosing Day Ceremony; then fall into the Dauntless Pit and witness the rigors of life in the Dauntless compound. Inside Divergent is a thrilling glimpse into the initiate's world.
Utgåvor
Häftad
Förlag: Harper Collins USA
Lagerstatus: Tillfälligt slut
The #1 New York Times bestselling novel Divergent is soon to be a major motion picture in theaters March 2014!
Illustrated with more than 100 photographsmany never before seenthis eye-catching volume takes you inside the film version of Divergent where you'll discover the factions, meet the initiates, and enter the thrilling dystopian world.
Utgivningsdatum: 20140211
9780062315601
Bok: 234011

Anmäl textfel