Butiken är stängd tills vidare
Glansholms Bokhandel & Antikvariat
Söker du efter "Harry Potter and the Cursed Child - Parts I & II" av J. K. Rowling? Du kan sluta leta. Våra experter i antikvariat hjälper dig eftersöka boken - utan extra kostnad - och den levereras direkt hem i brevlådan.

Information från förlaget
Engelsk utgåva
Harry Potter and the Cursed Child - Parts I & II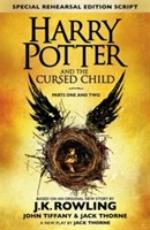 It was always difficult being Harry Potter and it isn't much easier now that he is an overworked employee of the Ministry of Magic, a husband, and father of three school-age children. While Harry grapples with a past that refuses to stay where it belongs, his youngest son Albus must struggle with the weight of a family legacy he never wanted. As past and present fuse ominously, both father and son learn the uncomfortable truth - sometimes, darkness comes from unexpected places.
Utgåvor
Inbunden
Förlag: Little Brown
Lagerstatus: Definitivt slut
Utgivningsdatum: 20160731
9780751565355
Bok: 270977

Anmäl textfel
J.K. Rowling är en av världens mest framgångsrika författare och är mest känd för sin bokserie om trollkarlen Harry Potter. Hennes böcker har sålt i över 450 miljoner exemplar, tilldelats en rad priser samt översatts till närmare 70 språk.