Glansholms Bokhandel & Antikvariat
Söker du efter "Harry Potter and the Order of the Phoenix (vuxen pocket A)" av J. K. Rowling? Du kan sluta leta. Våra experter i antikvariat hjälper dig eftersöka boken - utan extra kostnad - och den levereras direkt hem i brevlådan.

Information från förlaget
Engelsk utgåva
Harry Potter and the Order of the Phoenix (vuxen pocket A)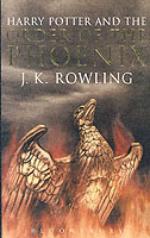 Harry is furious that he has been abandoned at the Dursleys' house for the summer, for he suspects that Voldemort is gathering an army, that he himself could be attacked, and that his so-called friends are keeping him in the dark. Finally being rescued by wizard bodyguards, he discovers that Dumbledore is regrouping the Order of the Phoenix - a secret society first formed years ago to fight Voldemort. But the Ministry of Magic is against the Order, lies are being spread by the wizards' tabloid, the Daily Prophet, and Harry fears that he may have to take on this epic battle against evil alone.
Utgåvor
Pocket
Förlag: Bloomsbury Publishing Ltd.
Lagerstatus: Definitivt slut
Utgivningsdatum: 20040701
9780747570738
Bok: 211194

Anmäl textfel
J.K. Rowling är en av världens mest framgångsrika författare och är mest känd för sin bokserie om trollkarlen Harry Potter. Hennes böcker har sålt i över 450 miljoner exemplar, tilldelats en rad priser samt översatts till närmare 70 språk.