Glansholms Bokhandel & Antikvariat
Söker du efter "Harry Potter and the philosopher's stone (vuxen pocket A)" av J. K. Rowling? Du kan sluta leta. Våra experter i antikvariat hjälper dig eftersöka boken - utan extra kostnad - och den levereras direkt hem i brevlådan.

Information från förlaget
Engelsk utgåva
Harry Potter and the philosopher's stone (vuxen pocket A)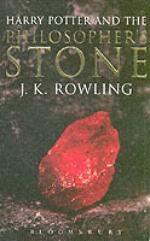 When a letter arrives for unhappy but ordinary Harry Potter, a decade-old secret is revealed to him that apparently he's the last to know. His parents were wizards, killed by a Dark Lord's curse when Harry was just a baby, and which he somehow survived. Escaping his hideous Muggle guardians for Hogwarts, a wizarding school brimming with ghosts and enchantments, Harry stumbles upon a sinister adventure when he finds a three-headed dog guarding a room on the third floor. Then he hears of a missing stone with astonishing powers which could be valuable, dangerous, or both.
Utgåvor
Pocket
Förlag: Bloomsbury Publishing Ltd.
Lagerstatus: Definitivt slut
Utgivningsdatum: 20040701
9780747574477
Bok: 211198

Anmäl textfel
J.K. Rowling är en av världens mest framgångsrika författare och är mest känd för sin bokserie om trollkarlen Harry Potter. Hennes böcker har sålt i över 450 miljoner exemplar, tilldelats en rad priser samt översatts till närmare 70 språk.