Glansholms Bokhandel & Antikvariat
Söker du efter "Harry Potter and the Philosopher's Stone - Signature Edition" av J. K. Rowling? Du kan sluta leta. Våra experter i antikvariat hjälper dig eftersöka boken - utan extra kostnad - och den levereras direkt hem i brevlådan.

Information från förlaget
Engelsk utgåva
Harry Potter and the Philosopher's Stone - Signature Edition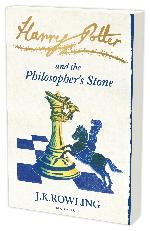 Utgåvor
Pocket
Förlag: Bloomsbury Publishing Ltd.
Lagerstatus: Definitivt slut
Harry Potter thinks he is an ordinary boy. He lives with his Uncle Vernon, Aunt Petunia and cousin Dudley, who are mean to him and make him sleep in a cupboard under the stairs. (Dudley, however, has two bedrooms, one to sleep in and one for all his toys and games.) Then Harry starts receiving mysterious letters and his life is changed forever. He is whisked away by a beetle-eyed giant of a man and enrolled at Hogwarts School of Witchcraft and Wizardry. The reason: Harry Potter is a wizard! The first book in "The Harry Potter Series" makes the perfect introduction to the world of Hogwarts.
Utgivningsdatum: 20101101
9781408812846
Bok: 212766

Anmäl textfel
J.K. Rowling är en av världens mest framgångsrika författare och är mest känd för sin bokserie om trollkarlen Harry Potter. Hennes böcker har sålt i över 450 miljoner exemplar, tilldelats en rad priser samt översatts till närmare 70 språk.