Glansholms Bokhandel & Antikvariat
Söker du efter "Harry Potter and the Goblet of Fire - Signature Edition" av J. K. Rowling? Du kan sluta leta. Våra experter i antikvariat hjälper dig eftersöka boken - utan extra kostnad - och den levereras direkt hem i brevlådan.

Information från förlaget
Engelsk utgåva
Harry Potter and the Goblet of Fire - Signature Edition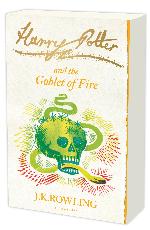 Utgåvor
Pocket
Förlag: Bloomsbury Publishing Ltd.
Lagerstatus: Definitivt slut
The summer holidays are dragging on and Harry Potter can't wait for the start of the school year. It is his fourth year at Hogwarts School of Witchcraft and Wizardry and there are spells to be learnt and (unluckily) Potions and Divination lessons to be attended. But Harry needs to be on his guard at all times - his worst enemy is preparing a terrible fate for him. With characteristic wit, fast-paced humour and marvellous emotional depth, J.K. Rowling has proved herself yet again to be a master storyteller.
Utgivningsdatum: 20101101
9781408812808
Bok: 212769

Anmäl textfel
J.K. Rowling är en av världens mest framgångsrika författare och är mest känd för sin bokserie om trollkarlen Harry Potter. Hennes böcker har sålt i över 450 miljoner exemplar, tilldelats en rad priser samt översatts till närmare 70 språk.