Butiken är stängd tills vidare
Glansholms Bokhandel & Antikvariat
Söker du efter "Harry Potter and the prisoner of Azkaban (vuxen pocket A)" av J. K. Rowling? Du kan sluta leta. Våra experter i antikvariat hjälper dig eftersöka boken - utan extra kostnad - och den levereras direkt hem i brevlådan.

Information från förlaget
Engelsk utgåva
Harry Potter and the prisoner of Azkaban (vuxen pocket A)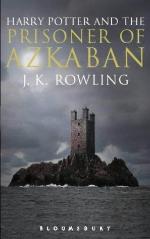 Harry Potter is lucky to reach the age of thirteen, since he has survived the murderous attacks of the feared Dark Wizard Voldemort three times. But his hopes for a quiet term concentrating on Quidditch are dashed when a maniacal mass-murderer escapes from Azkaban, pursued by the soul-sucking Dementors who guard the prison. It's assumed that Hogwarts is the safest place for Harry to be. But is it a coincidence that he can feel eyes watching him in the dark, and should he be taking Professor Trelawney's ghoulish predictions seriously?
Utgåvor
Pocket
Förlag: Bloomsbury Publishing Ltd.
Lagerstatus: Definitivt slut
Utgivningsdatum: 20040701
9780747574491
Bok: 211200

Anmäl textfel
J.K. Rowling är en av världens mest framgångsrika författare och är mest känd för sin bokserie om trollkarlen Harry Potter. Hennes böcker har sålt i över 450 miljoner exemplar, tilldelats en rad priser samt översatts till närmare 70 språk.