Glansholms Bokhandel & Antikvariat
Söker du efter "Harry Potter and the Goblet of Fire (barn)" av J. K. Rowling? Du kan sluta leta. Våra experter i antikvariat hjälper dig eftersöka boken - utan extra kostnad - och den levereras direkt hem i brevlådan.

Information från förlaget
Engelsk utgåva
Harry Potter and the Goblet of Fire (barn)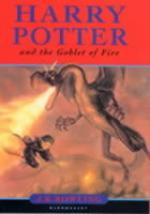 This is the fourth book in this award-winning and multi-best-selling series. Title and contents of manuscript embargoed until publication.
Utgåvor
Inbunden
Förlag: Bloomsbury Publishing Ltd.
Lagerstatus: Definitivt slut
Utgivningsdatum: 20000701
9780747546245
Bok: 211190

Anmäl textfel
J.K. Rowling är en av världens mest framgångsrika författare och är mest känd för sin bokserie om trollkarlen Harry Potter. Hennes böcker har sålt i över 450 miljoner exemplar, tilldelats en rad priser samt översatts till närmare 70 språk.