Glansholms Bokhandel & Antikvariat
A Game of Thrones TV Tie-In - Pocket

Beställningsvara, 138 kr

A Game of Thrones TV Tie-In - Pocket

Finns i lager, 138 kr
Information från förlaget
Engelsk utgåva
A Game of Thrones TV Tie-In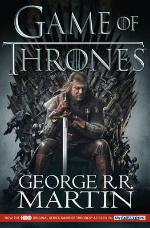 Utgåvor
Pocket
Förlag: Harper Collins UK
Lagerstatus: Beställningsvara
The first volume in the hugely popular and highly acclaimed epic fantasy series, A Song of Ice and Fire. There is passion here, and misery and charm, grandeur and squalor, tragedy, nobility and courage. Now a major Sky Atlantic TV series from HBO, starring Sean Bean. Summers span decades. Winter can last a lifetime. And the struggle for the Iron Throne has begun. It will stretch from the south, where heat breeds plot, lusts and intrigues; to the vast and savage eastern lands; all the way to the frozen north, where an 800-foot wall of ice protects the kingdom from the dark forces that lie beyond. Kings and queens, knights and renegades, liars, lords and honest men! all will play the Game of Thrones. Winter is coming!
Utgivningsdatum: 20110331
9780007428540
Pocket
Förlag: Harper Collins UK
Lagerstatus: Finns i lager
Utgivningsdatum: 20160421
9780008122348
Bok: 243574

Anmäl textfel
Han är författaren bakom fantasyserien "Sagan om is och eld" som ligger till grund för tv-serien "Game of Thrones". Han har skrivit böcker sedan 1979 men skriver även manus till filmer och tv-serier.