Glansholms Bokhandel & Antikvariat
Söker du efter "Game of Thrones (TV Tie-In)" av George R. R. Martin? Du kan sluta leta. Våra experter i antikvariat hjälper dig eftersöka boken - utan extra kostnad - och den levereras direkt hem i brevlådan.

Information från förlaget
Engelsk utgåva
Game of Thrones (TV Tie-In)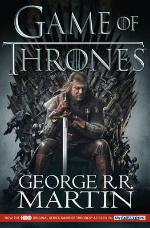 Utgåvor
Pocket
Förlag: HarperCollins UK
Lagerstatus: Definitivt slut
Utgivningsdatum: 20130501
9780007525980
Bok: 213183

Anmäl textfel
Han är författaren bakom fantasyserien "Sagan om is och eld" som ligger till grund för tv-serien "Game of Thrones". Han har skrivit böcker sedan 1979 men skriver även manus till filmer och tv-serier.