Glansholms Bokhandel & Antikvariat

Fevre Dream - Pocket
Finns i lager, 98 kr
Information från förlaget
Engelsk utgåva
Fevre Dream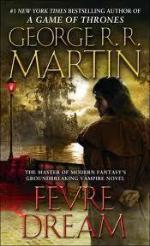 Abner Marsh has had his dearest wish come true - he has built the Fevre Dream, the finest steamship ever to sail the Mississippi. Abner hopes to race the boat some day, but his partner is making it hard for him to realise his ambition.

Joshua York put up the money for the Fevre Dream, but now rumours have started about the company he keeps, his odd eating habits and strange hours. As the Dream sails the great river, it leaves in its wake one too many dark tales, until Abner is forced to face down the man who helped to make his dreams become reality.
Utgåvor
Pocket
Förlag: Random House USA
Lagerstatus: Finns i lager
Vampires and the deep south, from the author of A SONG OF ICE AND FIRE, now filmed as A GAME OF THRONES.
Utgivningsdatum: 20120424
9780553577938
Bok: 214072

Anmäl textfel
Han är författaren bakom fantasyserien "Sagan om is och eld" som ligger till grund för tv-serien "Game of Thrones". Han har skrivit böcker sedan 1979 men skriver även manus till filmer och tv-serier.