Glansholms Bokhandel & Antikvariat
A Storm of Swords - Pocket

Finns i lager, 116 kr

A Storm of Swords - Inbunden

Finns i lager, 383 kr
Information från förlaget
Engelsk utgåva
A Storm of Swords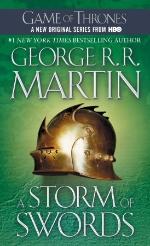 Utgåvor
Pocket
Förlag: Random House USA
Lagerstatus: Finns i lager
Utgivningsdatum: 20030301
9780553573428
Inbunden
Förlag: Random House USA
Lagerstatus: Finns i lager
Of the five contenders for power, one is dead, another is in disfavor, and still the wars rage as violently as ever, as alliances are made and broken. Joffery, of House Lannister, sits on the Iron Throne, the uneasy ruler of the land of the Seven Kingdoms. His most bitter rival, Lord Stannis, stands defeated and disgraced, the victim of the jealous sorceress who holds him in her evil thrall. But young Robb, of House Stark, still rules the North from the fortress of Riverrun. Robb plots against his despised Lannister enemies, even as they hold his sister hostage at King's Landing, the seat of the Iron Throne.
Meanwhile, making her way across a blood-drenched continent is the exiled queen, Daenerys, mistress of the only three dragons still left in the world. Filled with the stench of death and decay from the destructive dynastic war, Daenerys is gathering allies and strength for an assault on King's Landing, hoping to win back the crown she believes is rightfully hers.
But as opposing forces maneuver for the final titanic showdown, an army of barbaric wildlings bent on overwhelming the Seven Kingdoms arrives from the outermost line of civilization. In their vanguard is a horde of mythical Others - a supernatural army of the living dead whose animated corpses are unstoppable. And as the future of the land hangs in the balance, no one will rest in the quest for victory until the Seven Kingdoms have exploded in a veritable storm of swords.
Utgivningsdatum: 20001031
9780553106633
Bok: 211641

Anmäl textfel
Han är författaren bakom fantasyserien "Sagan om is och eld" som ligger till grund för tv-serien "Game of Thrones". Han har skrivit böcker sedan 1979 men skriver även manus till filmer och tv-serier.