Glansholms Bokhandel & Antikvariat
A Game of Thrones 5 Books Box Set - Pocket

Finns i lager, 491 kr

A Game of Thrones 5 Books Box Set - Pocket

Finns i lager, 405 kr
Information från förlaget
Engelsk utgåva
A Game of Thrones 5 Books Box Set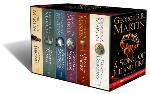 George R.R. Martin's A Song of Ice and Fire series has set the benchmark for contemporary epic fantasy. Labelled by Time magazine as one of the top 100 most influential people in the world, Martin has conjured a world as complex and vibrant as that of J.R.R. Tolkien's, populated by a huge cast of fascinating, complex characters, and boasting a history that stretches back twelve thousand years. Three great storylines weave through the books, charting the civil war for control of the Seven Kingdoms; the defence of the towering Wall of ice in the uttermost north against the unearthly threat of the Others; and across the Narrow Sea the rise to power of Daenerys Targaryen and the last live dragons in the world. The HBO adaption of A Game of Thrones is currently airing worldwide and has already proved so popular that a second season has been commissioned.
Utgåvor
Pocket
Förlag: Harper Collins UK
Lagerstatus: Finns i lager
The box includes:
A Game of Thrones

A Clash of Kings

A Storm of Swords 1: Steel and Snow

A Storm of Swords 2: Blood and Gold

A Feast for Crows

A Dance with Dragons
Utgivningsdatum: 20120524
9780007477166
Pocket
Förlag: Random House USA
Lagerstatus: Finns i lager
George R.R. Martin's A SONG OF ICE AND FIRE -- the story so far. The greatest epic work of the modern age is now available in a collectible box set. A GAME OF THRONES has been adapted into a hit HBO original series.
Utgivningsdatum: 20120522
9780345540560
Bok: 238222

Anmäl textfel
Han är författaren bakom fantasyserien "Sagan om is och eld" som ligger till grund för tv-serien "Game of Thrones". Han har skrivit böcker sedan 1979 men skriver även manus till filmer och tv-serier.