Glansholms Bokhandel & Antikvariat
Söker du efter "Dangerous Women Book 1" av George R. R. Martin? Du kan sluta leta. Våra experter i antikvariat hjälper dig eftersöka boken - utan extra kostnad - och den levereras direkt hem i brevlådan.

Information från förlaget
Engelsk utgåva
Dangerous Women Book 1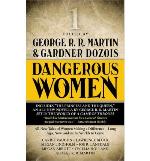 "Dangerous Women Vol. 1" includes stories by Carrie Vaughn, Megan Lindholm, Lawrence Block, Joe R. Lansdale, Megan Abbott, Cecelia Holland, and features George R. R. Martin's "The Princess and the Queen," a 35,000-word original novella set in the world of his bestselling Song of Ice and Fire series, basis for the hit HBO series "Game of Thrones."
Utgåvor
Pocket
Förlag: Macmillan US
Lagerstatus: Definitivt slut
Utgivningsdatum: 20140930
9780765368751
Bok: 252400

Anmäl textfel
Han är författaren bakom fantasyserien "Sagan om is och eld" som ligger till grund för tv-serien "Game of Thrones". Han har skrivit böcker sedan 1979 men skriver även manus till filmer och tv-serier.