Glansholms Bokhandel & Antikvariat

Dangerous Women Book 3 - Pocket
Finns i lager, 129 kr
Information från förlaget
Engelsk utgåva
Dangerous Women Book 3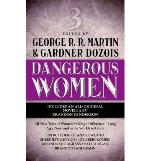 "Dangerous Women Vol. 3" includes stories by Sherilynn Kenyon, Joe Abercrombie, Diana Rowland, Melinda Snodgrass, and Pat Cadigan, and features an entirely new 18,000-word novella by "New York Times" bestselling author Brandon Sanderson, and a new story of Harry Dresden's world by bestselling author Jim Butcher.
Utgåvor
Pocket
Förlag: Macmillan US
Lagerstatus: Finns i lager
Utgivningsdatum: 20141125
9780765368836
Bok: 252402

Anmäl textfel
Han är författaren bakom fantasyserien "Sagan om is och eld" som ligger till grund för tv-serien "Game of Thrones". Han har skrivit böcker sedan 1979 men skriver även manus till filmer och tv-serier.