Glansholms Bokhandel & Antikvariat
Söker du efter "Kampen om järntronen" av George R. R. Martin? Du kan sluta leta. Våra experter i antikvariat hjälper dig eftersöka boken - utan extra kostnad - och den levereras direkt hem i brevlådan.

Information från förlaget
Kampen om järntronen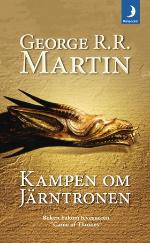 | | |
| --- | --- |
| Originaltitel: | A Game of Thrones |
Utgåvor
Inbunden
Förlag: Bokförlaget Forum
Lagerstatus: Definitivt slut
När kung Robert dör av skadorna från en vildsvinsjakt efterträds han av sin lille son. Men vem ska egentligen ärva tronen? Eddard Stark, som var kung Roberts förtrogne, avslöjar den hemska sanningen om kungasonens börd. Det blir Eddards undergång och samtidigt bryter ett regelrätt krig ut mellan huset Stark och huset Lannister. Kampen om järntronen fortsättningen på I vargens tid är den andra boken i serien Sagan om is och eld. George R. R. Martin bor i New Jersey, USA. Han har tidigare bland annat skrivit manus till filmer och TV-serier.
Utgivningsdatum: 19980128
9789137113586
Bok: 216596

Anmäl textfel
Han är författaren bakom fantasyserien "Sagan om is och eld" som ligger till grund för tv-serien "Game of Thrones". Han har skrivit böcker sedan 1979 men skriver även manus till filmer och tv-serier.